Qualification: CE
For Healthcare Professionals Use ONLY
The KOVIFAST™ Antigen Rapid Test is based on Lateral Flow Detection (LFD) intended for in-vitro qualitative detection of the SARS-CoV-2 virus antigen nucleocapsid (N) protein in human nasal swab, nasopharyngeal swab, oropharyngeal swab and deep throat sputum samples. N protein is an important structural protein of the SARS-CoV-2 virus and plays a critical role in enhancing the efficiency of virus transcription and assembly.



Features and Benefits:
The KOVIFAST™ Antigen Rapid Test is a highly scalable testing solution:
Accurate: Sensitivity 92.1%, Specificity 100%, with overall consistency results exceeding 95% when compared to RT-PCR testing
Affordable: as low as 10% of the cost of RT-PCR testing
Easy: even possible for home use
Fast: results available onsite in 15 minutes
Portable: the entire test is supplied in a hand-sized pack with no additional equipment required
Validated by Clinical Study:
The KOVIFAST™ Covid-19 (SARS CoV-2) Antigen Rapid Test Kit has been validated by a comprehensive clinical study in which 62 clinical samples were selected.  Using this kit, 35 cases out of 38 PCR test confirmed cases are positive, with a sensitivity of 92.1%; 50 out of 50 PCR test excluded cases are negative, the specificity was 100%. The overall consistency is 96.6%.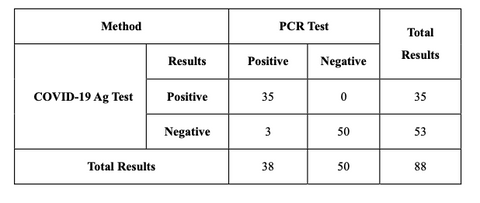 Product Specifications:
Sample collection method: deep throat sputum as the preferred method; or throat and tonsil (oropharyngeal) swab as an alternative method if sputum cannot be produced
Test kit contents: disposable swab (one); dropper tube (one); diluent vial (one); sputum dish (one); test cassette (one)
Storage conditions: 2 to 30°C away from direct sunlight; use within 12 months from date of manufacture
Packing: One Test (single boxed test kit); Twenty Test Shipping Box (twenty single boxed test kits in one shipping box); Twenty Test (twenty individual single test kits in one bulk box)
Limitation of Coronavirus Antigen Rapid Test
This test is recommended for Healthcare professional use only.
The test procedure, precautions and interpretation of results for this test must be followed strictly when testing. Failure to follow the Test Procedure and Interpretations of Test Results may adversely affect test performance and/or invalidate the Test Result.
The test should be used for the qualitative detection of SARS-CoV-2 antigen in human nasopharyngeal swab specimens. Neither the quantitative value nor the rate of SARS-CoV-2 antigen concentration can be determined by this qualitative test.
A negative test result may occur if the level of antigen in a sample is below the detection limit of the test.
False-negative test results are more likely during peak activity when prevalence of disease is high.
False-positive test results are more likely during periods of low SARS-CoV-2 activity when prevalence is moderate to low.
CE conformity, Implementation of Directive 98/79/EC on in vitro diagnostic medical devices, Annex III
Applicable Standards:
ISO 13485:2016
ISO 14971:2019
EN ISO 18113-1:2011
EN ISO 18113-2:2011
EN 13641:2002
ISO 15223-1:2016
EN 13612:2002
ISO 23640:2015
EN 62366-1:2015